MARE*GOes to Späti!
07.06.2023
Dank an Späti @kreativfabrik Wiesbaden und @Kritische Intervention Wiesbaden!
Marie gibt einen kleinen Vortrag mit Gespräch zur MARE*GO:
Die MARE*GO ist eine schöne alte Lady (Baujahr 1917) mit einer legendären Geschichte! Als SEA WATCH und MARE LIBERUM wurde sie bekannt und wird jetzt beim ersten Einsatz im Mittelmeer von der faschistischen  Regierung Italiens festgesetzt! Wir halten uns ans internationale Seerecht und werden dafür kriminalisiert. Marie zeigt Bilder und Videos und erzählt von den Rettungen und von Lampedusa, vom Aufbau und Sanierung des Schiffs und von dem, was jetzt als nächstes kommt. Spenden willkommen!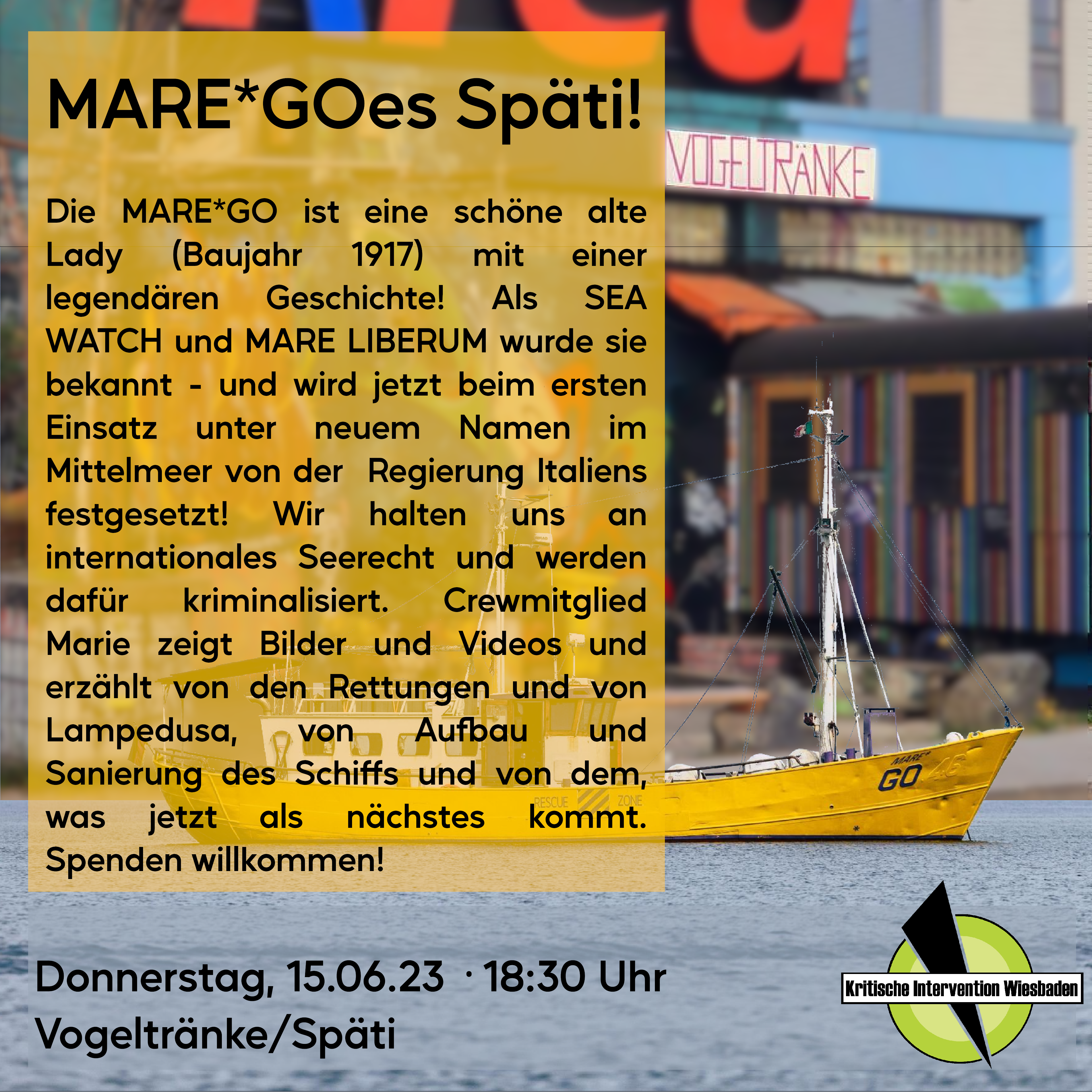 Spendenaufruf
04.06.2023
We need your support!
Here are some news regarding the consequences if our actions that had to be taken in accordance with the well being of our guests and our crew:
The Mare*Go is blocked for 20 days and will have to pay a fine of €3.333. Why? Because the Italian government is trying to make sea rescue more difficult. Following a new law, ships are sent to far places after only one rescue, so that they are not able to rescue any more people at sea. We know that this is meant to threaten and stop humanitarians and activists who act in solidarity with people on the move and who try to reduce the loss of life at sea.
Due to the health situation of our guests and the crew fatigue, it would have been irresponsible to go all the way to Trapani. Rescued persons at sea have to be taken to the nearest place of safety. We followed that imperative, stemming from the relevant international conventions.
We will never obey post-fascists, especially if they are trying to let people drown at sea. We will sail out again in July and will follow the same imperative again and again, if necessary – no matter the consequences. For us this means we lose time and it costs money but the real tragedy lies with the fact that more people will die trying to flee from war torn countries like Libya. What a disgrace!
Now we need your help to go out again in July! You can support us here: https://mare-go.de/spenden/
some friends did helpful things. Here you could choose other possibilities for donations: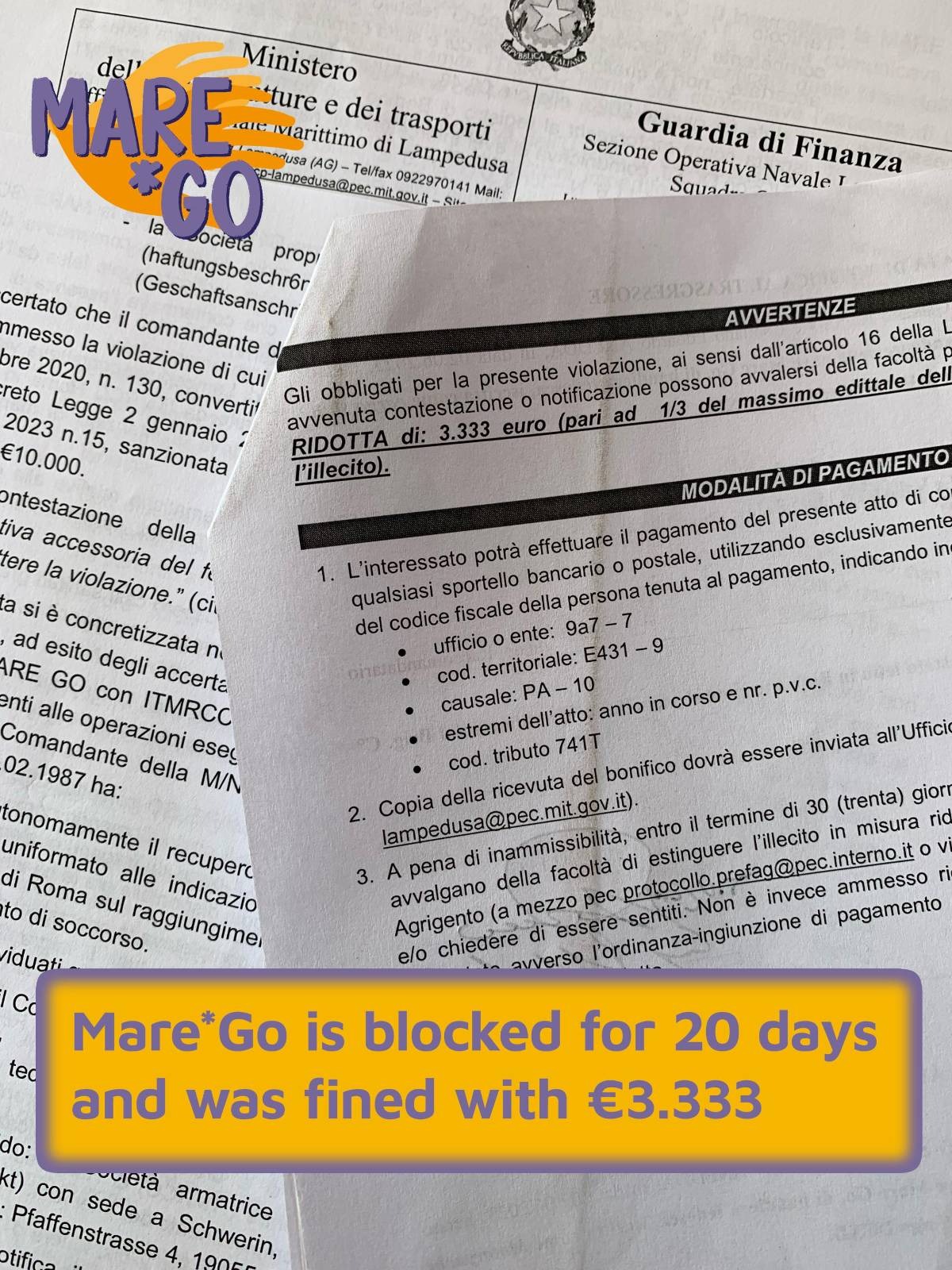 Pressespiegel
03.06.2023
Danke für die Solidarität in den sozialen Netzwerken und in allen persönlichen Nachrichten, die uns erreichen.
Deutsch
Tagesschau (02.06.2023)
English
Italiano
05.06.2023
06.06.2023

Statement
02.06.2023
After rescuing 36 people from distress at sea this morning, #MareGo was assigned to the port of Trapani, Italy – a minimum of 32 hours away. We clearly communicated to the authorities that #MareGo is not equipped to treat the rescued people on the move for that period of time and that our crew been out on the open sea for several days carrying out several rescue operations and therefore its unreasonable to continue this many hours of navigation in regard of the well being of the rescued people and our crew. That's why we decided to head for Lampedusa instead. The Harbour Master and the Guardia di Finanza are informed about our ETA and that we will enter the port of Lampedusa as there is no other chance to reach a #POS in safety. As many others before us we are facing a border regime willing to do anything to let people on the move drown at the sea and stop those in solidarity from intervening. #LeaveNoOneBehind #SolidarityAndResistance
Folge der MARE*Go auf Twitter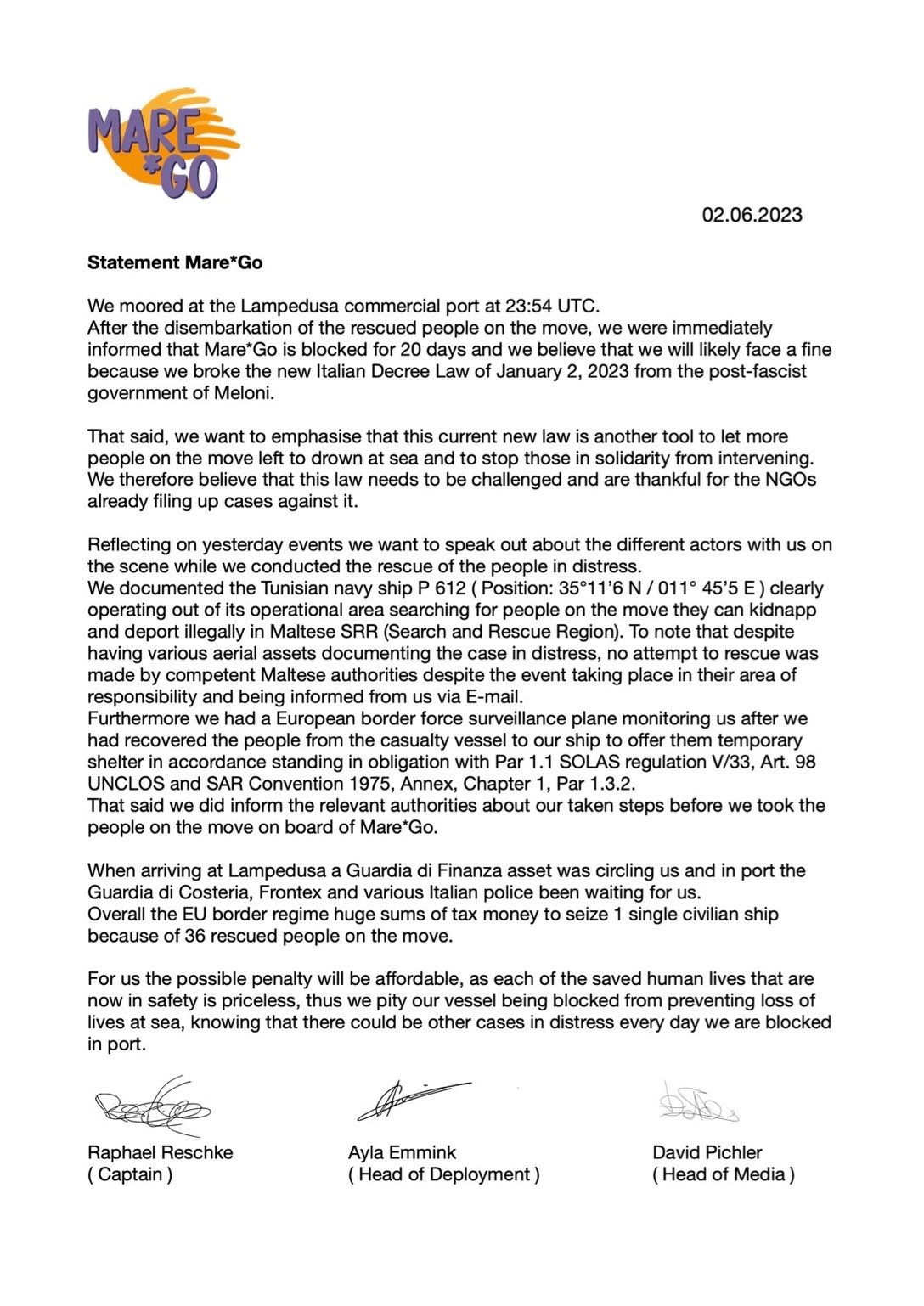 NEU! Stickeralbum THE CIVIL FLEET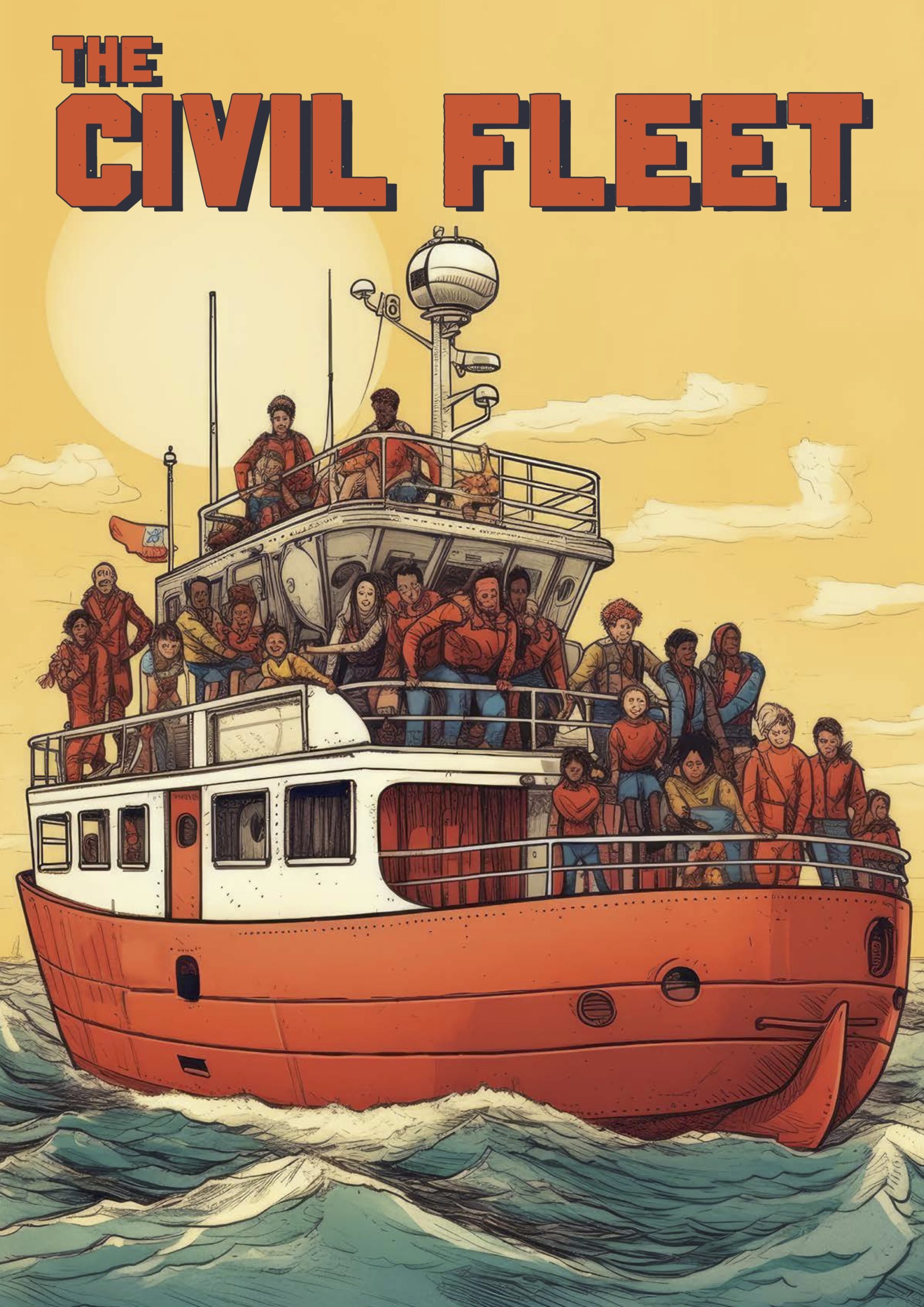 Infostand beim Ract!Festival in Tübingen
23.04.2023
 Info/Spendenstand beim ract!Festival am 26. und 27. Mai 2023 in Tübingen!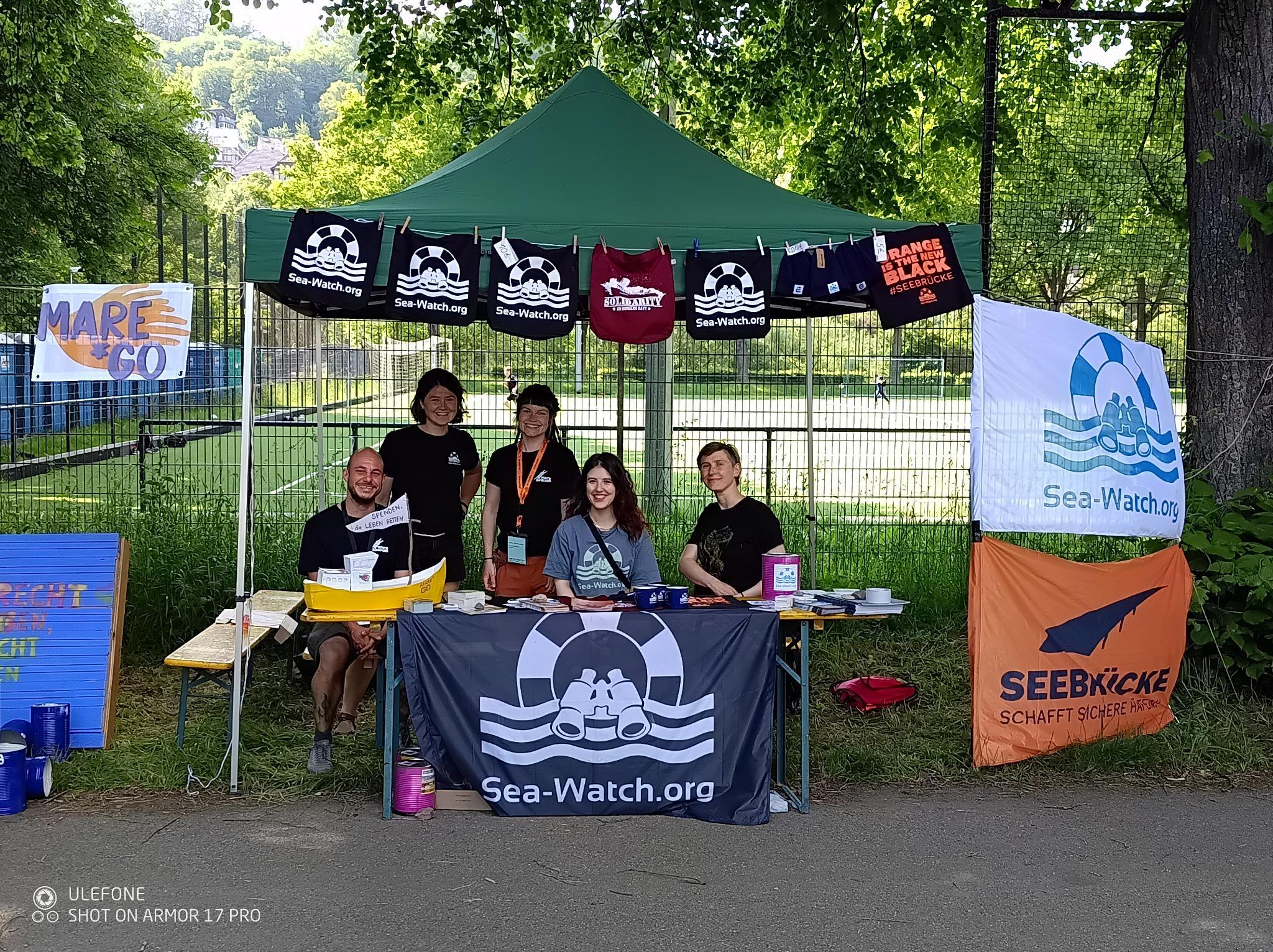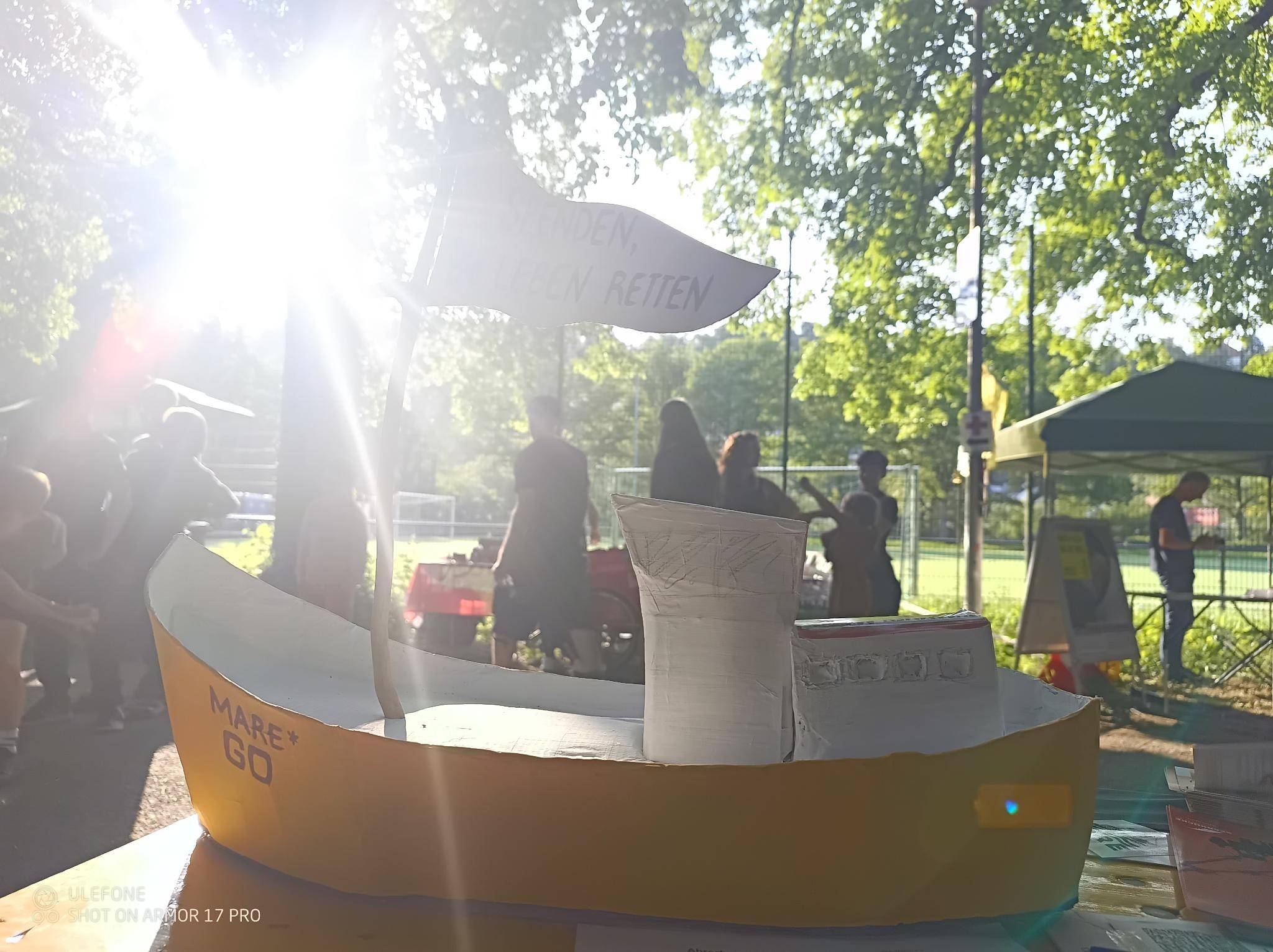 FILM + TALK: "Sara Mardini – Gegen den Strom" und Berichte zur zivilen Seenotrettung
20.04.2023
∗ 19.00-21.00 Uhr
∗ Wo? Kino mon ami (Goetheplatz 11, Weimar)
∗ Wie teuer? Der Eintritt ist frei!
Wir laden euch am 20. April ins Kino mon ami Weimar ein. Wir schauen die Dokumentation "Gegen dem Strom" – ein Portrait über Sara Mardini, das uns beispielhaft die systematische Kriminalisierung von Flucht und Seenotrettung vor Augen führt. Im Anschluss dürfen wir dem Bericht eine*r Aktivist*in der zivilen Seenotrettung lauschen. bo* berichtet von erlebten Rettungseinsätzen auf der tödlichsten Fluchtroute der Welt, Möglichkeiten und Grenzen von Sea Rescue und stellt die aktivistische Arbeit von MARE*GO (ehemals Sea-Watch, Mare Liberum) vor. Nach etwa 20 Minuten Vorstellung, soll es noch Zeit für gemeinsame Fragen, Austausch und Widerstand geben! Herzliche Einladung also an euch, nach dem Film etwas Zeit ein zu planen. Wir werden als Seebrücke Erfurt an dem Abend mit einem Info- und Solistand im Kino dabei sein und freuen uns, viele von euch da zu sehen.
Zum Film-Trailer: https://youtu.be/C-lj5InsCdA.